Nail Technician Diploma Award
Nail Technician Diploma Course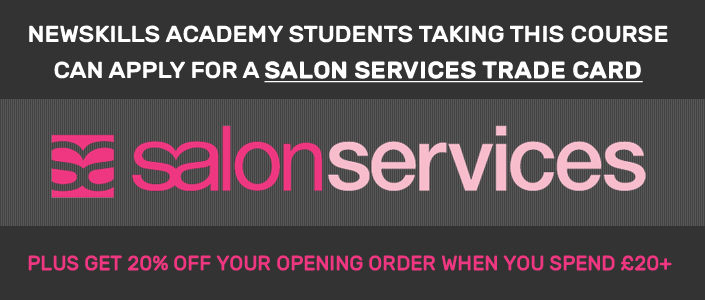 The nail technician diploma is a wonderful learning opportunity for anyone who has a passion for nail art and is interested in enjoying a long career in the nail industry or for anyone who is already a nail technician that wants to brush up on their knowledge and boost their career with a recognised certification.
Introduction to the Nail Technician Diploma
This nail technician diploma comprises twenty five informative modules that take around twenty hours to complete. The course is accompanied by a host of instructional videos, helpful illustrations, how-to instructions, advice and more. During the course you will have access to online support as you study the introduction to nails, how to start your own business, nail art, marketing your business and so much more.
The course is offered online at an affordable price, giving you the ability to study in the comfort of your own home and at your own pace. You can access the modules anywhere where you have an internet connection and from any device. On completion, you can download and print your certificate, which you can use to boost your career as a nail technician moving forward.
What You Will Learn
This course is brimming with twenty five modules designed to give you complete training in becoming a successful nail technician and providing you with guidance and insight to starting your own nail salon.
Understand nail technology and what a nail technician does.
Learn the different skin layers and how this plays a role in nail technology.
Get an understanding of nail anatomy, how fast nails grow and the different sections of the nail that you need to know as a nail technician.
Learn how to prepare your work area effectively. This module covers hygiene and the importance of cleaning your work area effectively between patients.
Understand the importance of consulting with your clients, offering guidance and how to give clients clear instructions on how to care for their nails moving forward.
Learn how to perform a manicure from the supplies you will need and how to shape the nails for the best results.
Learn the art of performing the perfect pedicure each and every time. This module will provide you with the advice you need from what supplies you will need to removing old nail polish to shining nails and more.
Understand the art of false nails from the supplies you will need to adding plastic tips, lengthening acrylics and finishing off acrylic nails perfectly.
This module will teach you how to incorporate a hand and arm massage into your nail appointment to provide your clients with an added service.
Understand all there is to know about gel nails and what makes them so popular. You will also get step by step instructions on completing gel nails along with a useful instructional video.
Get useful advice on using nail tips.
Learn all there is to know about nail art. Know why a base coat is so important, get inspiration for designs and more.
Get some valuable tips on nail maintenance and how to help your clients make their manicure and pedicure last longer.
The importance of health and hygiene and how to keep your work station clean at all times.
An introduction to salon management.
Advice on starting your own salon, working as a technician or starting a mobile business.
Learn how to set up a successful salon with decoration tips and advice.
Marketing, pricing and merchandising in your salon.
Understand about staffing your salon, employee law and everything you need to know when it comes to adding staff members to your salon.
Get valuable insight into customer relations management to ensure the highest levels of customer service at all times.
Learn to manage costs effectively, along with the importance of reporting and record-keeping.
Benefits of the Nail Technician Diploma
Completing this diploma, whether you have no experience and are interested in a career in this industry, or you are already a technician that wants to brush up on your knowledge, you will find that the benefits are endless. Some of the benefits include:
Improved career opportunities
Ability to enjoy consistent earnings
Study in the comfort of your own home online
Study at your own pace
Affordable study solution
No travelling costs
Recognised certification on successful completion and passing of the multiple-choice test.
This course includes
24/7 Student Support
End of course certification
Lifetime access to your course
Compatible with modern devices
PLUS - Access to the exclusive New Skills Academy Study Group!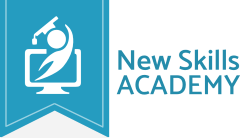 ID: YDFT67YHJ
certificate
of achievement
This certificate is presented to
Your Name

For completing the
Nail Technician Diploma Award
on 21st November 2021
Selena Hurford
Selena Hurford
Course Tutor

Daniel Morgan
Daniel Morgan
Head of Academy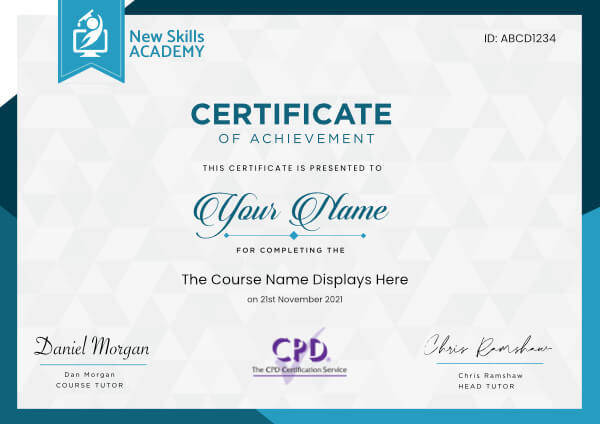 What our students have to say...
Well structured, clear, and easy to follow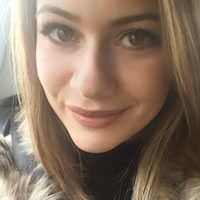 I was bought this Nail course as a birthday present and it has really inspired me as I have always had a passion for Nail design. This course was well structured, clear, and easy to follow. It ran smoothly and I knew exactly how long I was expected to work on each module. I learnt all about the business side to the salon as well as physical skills and it was easy to do the exams and get my certificate. I would thoroughly recommend this course or similar ones to other people as it was so flexible and I can now take my new skills straight into the working world.
Lauren Dean - Southampton
Extremely easy to follow
This course is brilliant! Extremely easy to follow and understand. You are able to do it in your own time so there's no pressure. I've now just completed it and enjoyed the whole experience. I can't wait to get my little business up and running. Thank you all
Louisa Forsyth - Stratford upon Avon
Super Fun
This course was super fun and so easy to follow. I loved the convenience of learning everywhere, I could use my phone or tablet and do the course in the car, breaks while at work or in the privacy of my living room. The videos were wonderful and the worksheets helped so much as well... I'm more confident in myself now :)
Tara Ireland - Surrey
Extremely interesting as well as informative
This is just what I needed to help me launch my business! I am so excited to use all I have learned here and apply it to my own venture! Was wonderful learning all the science behind the role and was truly, exactly what I was looking for in a course. I will be referring back to the materials, it is extremely interesting as well as informative! Thank you so much!!!
Kirsty Johnson - Welwyn Garden City
The videos were a good way to practice
I've completed the course and have started to prepare myself as a mobile nail technician. The online course was easy to understand and the videos were a good way to practice step by step. Many thanks
Fiona Lobley - Brant Broughton
I couldn't of had a better course
This is brilliant I couldn't of had a better course to do having the videos as well help so much
Ellis Gardiner - Gloucester
An amazing way to turn your hobby into a nice little money maker
I started doing nails as a hobby, and my interest just carried on growing, I never thought that I would end up qualified! This is an amazing way to turn your hobby into a nice little money maker and boost your own confidence and knowledge in the process.
Amy Armstrong - Cumbria
Great course which is simple to do
Great course which is simple to do but you get a great qualification in the end and if you fail a unit it is simply to retake. Thank you for the amazing opportunity to be a nail technician! The course is very interesting, helpful and detailed. I have enjoyed every module and very very soon I'll have a certificate! Highly recommend!
Justina Pavliukoviciene - Peterborough
Easy to Understand
Great course worth the money very detailed yet easy to understand and all official with a certificate at the end it's very interesting and fun
Cherish King - Milton Keynes
Amazing Course
Amazing course! Clear training videos and everything you need to know to become a nail tech! I'm so pleased I decided to do this. It's put me on track to work for myself and own my own business
Kelly Goulding - Corby
Highly recommended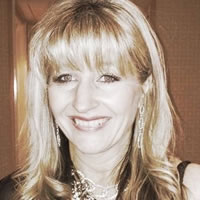 I was a little sceptical about doing an online course as thought it wouldn't be very in depth, but how wrong I was! Very thorough and covered everything yo could possibly need. I trained many years ago and wanted a refresh and this was perfect and enabled me to get my insurance and feel confident being back in the Beauty Industry. I'm now about to start another refresh course on waxing and cant wait to get going, I will most certainly be back to do more. If you're unsure whether to do an online course, don't be, its a must. Highly recommended!
Sue Pearce - Hoddesdon
This course is brilliant and I would recommend to anyone!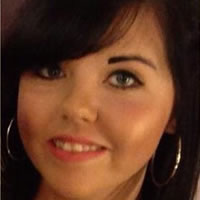 I was a bit nervous when I first purchased the nail technician diploma online course for the one reason that it was so cheap compared to other online courses I had seen. I have recently taken this course and i can honestly say that it is so easy to follow and you really do learn all the things you need to know to become a successful nail technician from the nail anatomy to starting your own business and all the other helpful bits in between. I can't believe I am well on my way to becoming a qualified nail technician:) If you are worried about purchasing this course then don't be! This course is brilliant and I would recommend to anyone! xxx
Emma Thorpe - Sheffield
I can't stop studying!
I have started this course only 1 day ago and I cant stop studying. The information is very informative. I like the way the course gives you time to practice to get the skill right before you move onto the next subject. I am looking forward to completing the course so I can start doing the nails properly. Highly Recommended.
Mia James - Hull
Would definitely recommend!!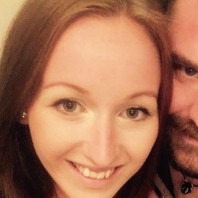 Love this course!! Everything included is so helpful, from the basics straight through to setting up your own salon. Being a mother and working full time I was able to work at my own pace. Would definitely recommend!!
Sade Aubrey – Gloucester
Very easy to follow with simple, clear instructions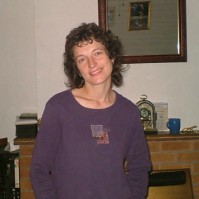 After much searching, I stumbled across this online course which sounded perfect for what I wanted and was available at a very affordable cost. This is the first time I have taken an online course, so wasn't sure what to expect or if my money was going to be well spent. The course is great, it was very easy to follow with simple, clear instructions and the additional use of video demonstrations that I found extremely helpful. It was handy to be able to print off all the course modules to keep for future reference and nice to receive a certificate upon completion. Whilst I will probably never have a career as nail technician, I have gained what I wanted from this course, lots of knowledge and new confidence to do manicures/pedicures on both myself, friends & family.
Janice Waterman – Caledonia, Nova Scotia
I will 100% recommend this to friends and family!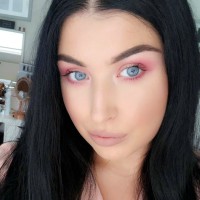 Loved the course, I just finished! So easy to do around normal day to day life, loved being able to complete in my own time and the modules and videos were very informative! Can't wait to take my next steps in following my passion! I passed first time which I'm super happy about and learnt so much I didn't know, I will 100% recommend this to friends and family! The price of the course was also really cheap compared to other places which is why I will most definitely be looking to do another course with New Skills Academy! Thank you
Caitlan Mckenzie-Dawes – London
Amazing course! a lot of information provided through out, can complete at your own pace, I would defiantly recommend this course
thank you!!
phoebe neal
Amazing course! Very extensive and I love the way I can pick an choose when to complete the course as I have 2 children under 3! Now I am a fully qualified nail tech and can continue my passion in my spare time when it suits me. Thank you New Skills Academy for allowing me the time to improve myself without any pressure or deadlines!
Adrianne Rushmer
I genuinely enjoyed working through this course. Ideal to do along side working a full time job to boost your skills. Each module is easy to understand and you aren't faced with information overload.
Jade Ashton
Such a good course easy to get on with and work around busy life being a mum and working it was great super happy looking at what I can do next
Sian Noble
I really enjoyed this course as explained everything really well and with being dyslexic the listen to module feature this excellent, I really enjoyed learning with new skill academy and will be doing more beauty course with them. thank you new stills academy
Jill Lofthouse
Very very informative, helpful and thorough I can now confidently perform services on my clients highly highly recommend to anyone! I have anxiety and this course has not only helped me understand the importance of knowledge but has also massively boosted my confidence, I will definitely be doing more courses with New Skills Academy! Thank you!
Chloe Lyon
I have learnt so much doing this course and feel I have enough confidence to achieve all aspects that I would like to.
Sophie Gilbert
I have learnt some much and have thoroughly enjoyed doing this course. It has given me more confidence that I am doing the right thing by following my dreams, to better myself for me and my son and working to become a Nail Technician.
sarah abson
This course was very well coordinated. Easy to read. Good video material. I was surprised about all the information given for to establish a salon. It made me consider to open a potential salon.
Kristine Teivane
Very pleased and happy with my course . looking forward to learn more with new skills academy !
Laura Monika
Very nice experience. It was my first online course but I'm so excited. A lot of information. I was surprised that you can find everything about nail technician in an online course. Not just about the nails but you can learn to many things like management, merchandise, health and safety…
I'm sure that this is not the last online course with new skills academy.
Florentina Daniela Alecsandrescu
This course was really interesting from the start. Great review of biology and good descriptions of techniques and business knowledge.
I enjoyed the course.
Emma Prosser
Highly recommend this course! Compact with information and practical task. Got a lot of new knowledge. Thank you so much!
Anna Wallin-Sjögren
I was very surprised how full off information all modules have,I will definitely print them out if case I need something!Very happy that I used this course!I will definitely use some more courses from Newskillsacademy,thank you
Ilze Sustere
New skills academy has been brilliant for me. I started my course during the first COVID-19 lockdown to occupy my mind and it really did help. I'm now qualified as a nail technician and i would highly recommend new skills academy to others as a way of easy learning
Laura Teasdale
I really enjoyed doing this Nail Technician Course with New Skills Academy. I could complete the course within my own time which really allowed me to focus on other important things. I learnt a lot alongside the things I already knew as a beginner nail tech. The course was very affordable and definitely worth it too. I recommend this course to any beginner nail technician and I recommend New Skills Academy as a whole if you're looking to earn a diploma.
Jamella Gregory
This course has been excellent. Its easy to learn on the go. The video guides are really useful and easy to follow. I have extremely enjoyed completing this course. It is great to always extend my knowledge and skills and I now feel ready to get into the world with my new learnt skills. I am looking at starting with close family and friends and maybe building more clients in the future. Its a great achievement that I am very proud of and has given me lots of confidence to do more. Thanks New Skills Academy for this great opportunity.
Zoe-Clair Hudson
https://uk.trustpilot.com/review/newskillsacademy.co.uk

All New Skills Academy Students Are Eligible for an XO Student Discount Card
GET YOURS NOW
Why you should study with us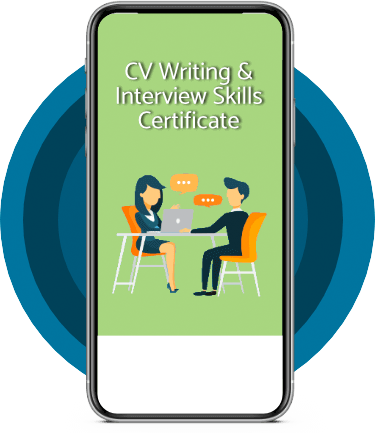 Get a
FREE

Course

Sign up to our newsletter and get access to the Interview Skills and CV Writing Certificate course for free!
Simply enter your details below and we will email you access to your free course!
What our students say about us...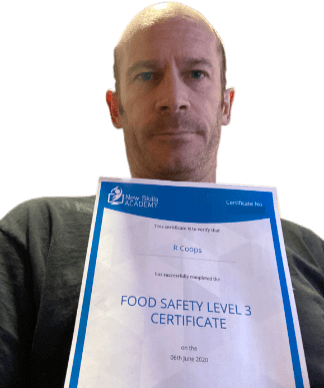 Yet another well laid out course. This is my 3rd course so far with New Skills Academy.
More than likely will be back for another one soon. This course was enjoyable to do, and I learnt a lot and passed first try. My certificate will be up on the wall soon.
Rob Coops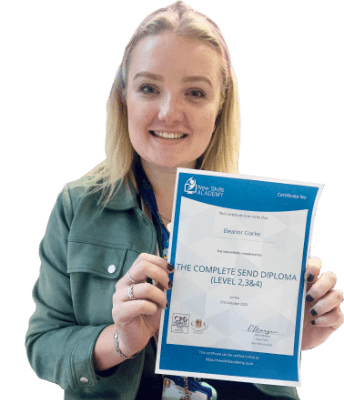 It was an eye opening course that was flexible and easy to access. I was able to complete it from the comfort of my own home whilst also having the tasks to complete which enabled me to check my knowledge. I know feel much more confident in my field of work and really enjoyed doing it.
Ellie Clarke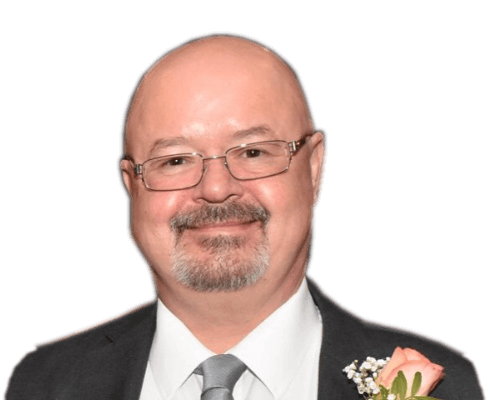 I took up this course initially to help me with my own dog, but found that as I worked through the material I actually started thinking that this could be something that I could use to make a second income. From start to finish I found the course engaging and interesting. I am now doing another dog related course and am experiencing the same level of enjoyment. I would recommend New Skills Academy without hesitation.
Keith Smith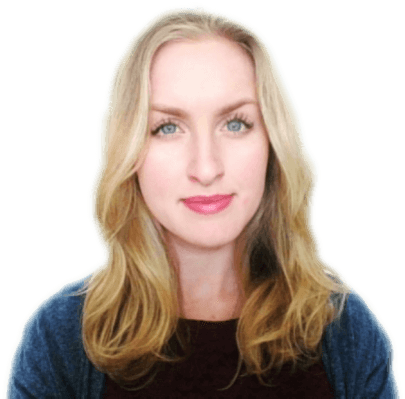 I found this course incredibly useful, as it provided me with practical knowledge which I can implement in my role as a Support Worker. The videos were clear and concise, and the downloadable worksheets reinforced what I had learned as I was able to put pen to paper. Overall, a fantastic course for a great price! I am looking forward to taking on my next one.
Teleisha Harley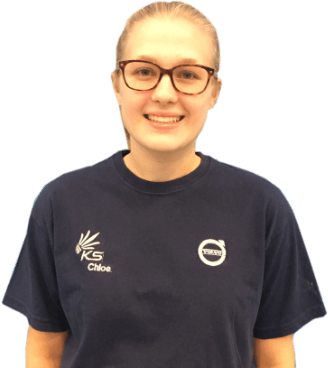 Lovely course for people who want to know the basics and of sign language. It's has helped me to get more of an understanding and will greatly benefit me in my workplace. So easy to pick up and the videos were easy to understand. Would definitely recommend to anyone.
Chloe Hambly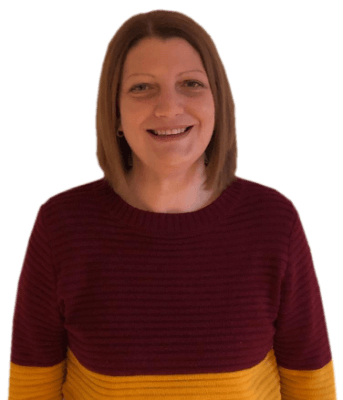 This course is a great way to brush up on my rusty excel skills, I recommend this course to anyone looking for something to do during lockdown, it's easy to use and talks you through each stage step by step. It has given me the confidence I need to further my career.
Georgia Darke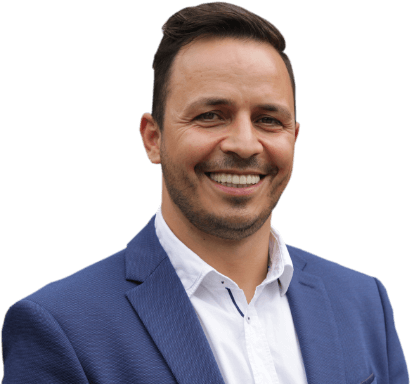 Excellent course, well explained and easy to understand. The course can be done at my own pace and is available on various devices. The layout of the course was excellent and the notes options is very good. The content is perfect and well structured, making it easy to understand and follow. I will definitely be taking more courses in the future.
Luis Costa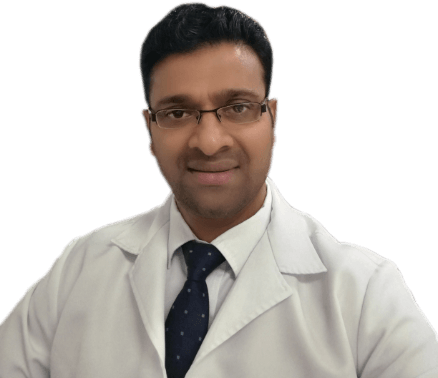 I am a doctor. This course is well organized, covering all areas of CBT. The videos and practical tips are very helpful. All the modules are arranged with good explanations and examples. Also each module consists of quick test and assignment which enables you to gain knowledge. Finally I would like to thank the New Skills Academy team.
Dr. M. Arshad